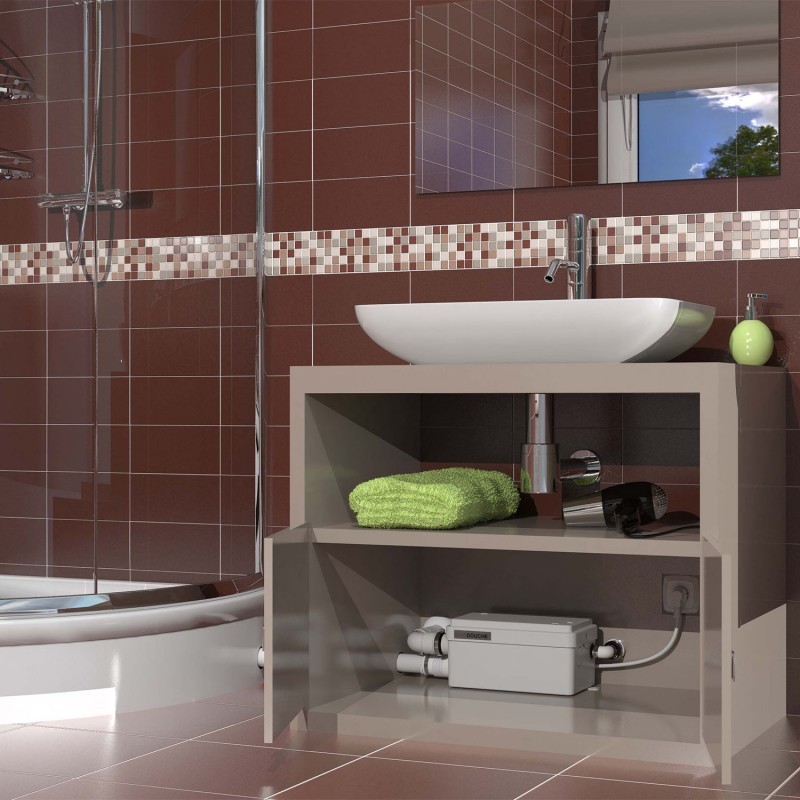  
Sanishower
The Sanishower can be installed next to or underneath a shower tray with access for maintenance. Capable of pumping a standard electric or gravity mixer shower. Two inlets mean a wash basin can be added too.
Pump suitable for a shower and a wash basin
Overcomes gravity drainage issues and allows basement showers
Can be fitted under or next to shower tray
Pumps up to 5m vertically or 50m horizontally
The Sanishower pump can be built into a shower or bathroom furniture due to its small size and its very low trigger threshold.
This pump is made in France at the Brégy (60) SFA factory. It has thus received the Guarantee of French Origin.
Sanishower datasheet
Dimensions l x w x h (mm)
293 x 177 x 167
| | Sanishower |
| --- | --- |
| Max. flow rate | 70 L/min |
| Number of inlets available | 2 |
| Diameter of the inlet | 40 mm |
| Recommended discharge diameter | 32 mm |
| Engine consumption | 250 W |
| Supply voltage | 220-240V/50Hz |
| Maximum absorbed current | 1.3 A |
| Electrical class | I |
| Protection index | IP44 |
| Maximum temperature of incoming water | 35 °C |
| Sound level | 46 dB(A) |
| Max. horizontal discharge | 50 m |
| Max. vertical discharge | 5 m |
| Weight | 3.5 kg |
| Switching height | 65 mm |
| Shower tray height | 12 cm |