SFA Lifting Stations
Install a washroom or kitchen wherever you want with minimal effort !
What is a Lifting Station ?
A Lifting Station's objective is to collect and lift the wastewater to the closest sewage line. Multiple options are available, either a submersible sump pump in a pit or by using a floor-standing solution such as SFA's lifting stations range!
SANICOM: Grey water lifting station
The SANICOM range is ideal for installing a commercial kitchen or pantry (kitchen, office pantry, etc). These products can guarantee continuity of operation, thanks to their 1 or 2 pump feature and an in-built alarm.
SANICUBIC: Sewage lifting station
These heavy-duty lifting stations can collect and lift sewage and grey wastewater. A SANICUBIC lifting station is recommended when there is a need for a heavy-duty sewage pump or sewage grinder pump and where continuity of operations is needed (office, restaurant, hospitals).
Why use a SFA Lifting Station ?
SFA lifting stations are an easy-to-install alternative to digging the floor to install a sump pump or creating a trench with gravity drainage. SANICOM and SANICUBIC make the installation of multiple washrooms or kitchens easier and quicker!
Thanks to our wide range, an SFA waste water pump can be used for individual houses and for commercial buildings as well.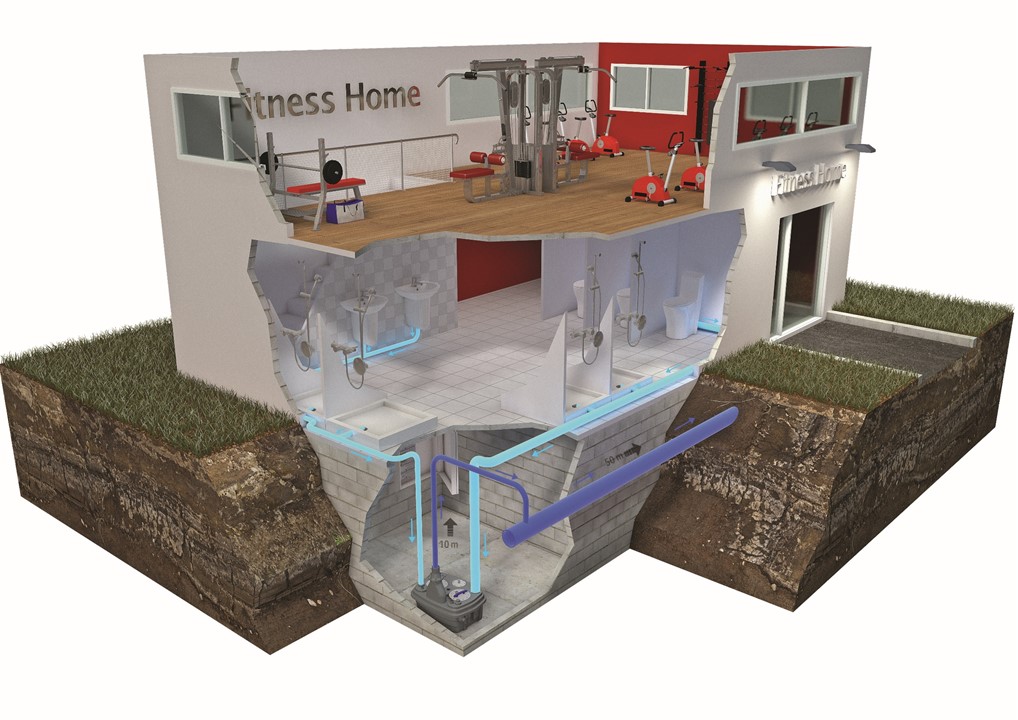 CASE STUDY
Challenge : 
A commercial shower room with toilets, washbasin and showers need to be installed in the basement of a fitness center. Unfortunately the drainage pipe is located on the upper level. 
Solution : 
SFA floor standing IP 68 SANICUBIC 2 VX avoided the costly and time consuming actions related to the installation of a sump pump. 
This high capacity lifting station (up to 55 m3/h and its 120 L tank) perfectly suited this heavy duty usage.